Explore programs, policies, and technologies
Explore these in-depth descriptions of new policies, services, and technology interventions that aim at addressing the eviction crisis — including reducing eviction filings, improving tenants' rates at appearing in court, increasing housing stability, reducing disruptive displacement, and improving the ability of tenants and landlords to reach mutually acceptable agreements at resolving evictions.
Eviction Diversion Programs spotlight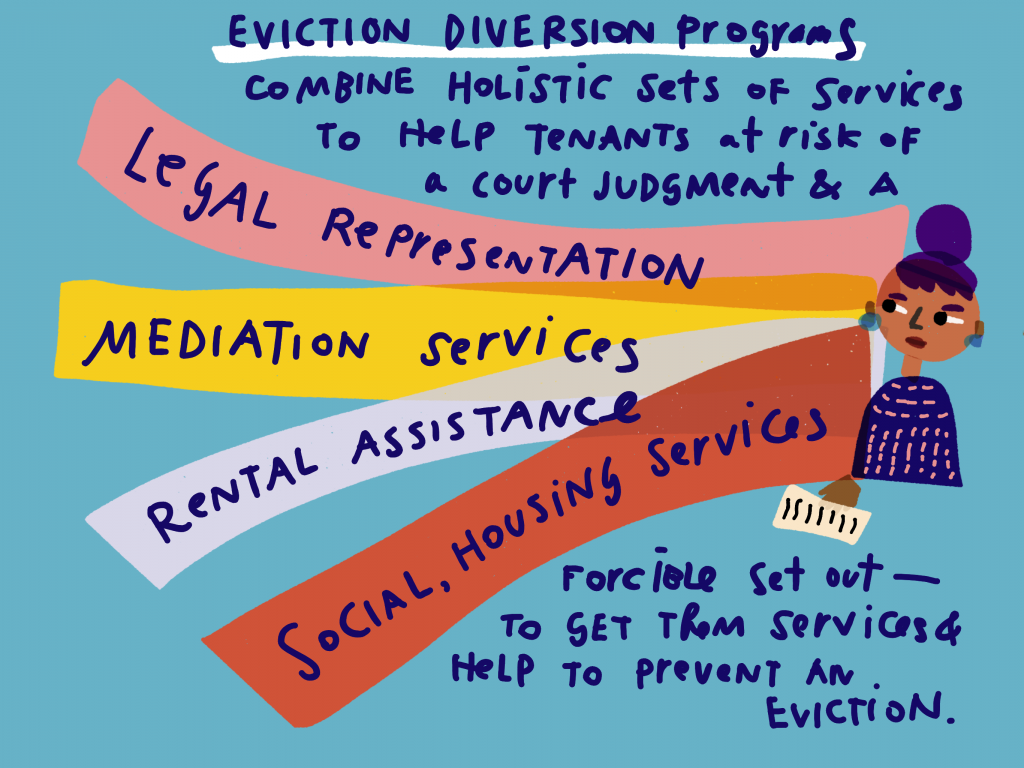 Eviction Diversion Programs have emerged as one of the most promising new practices to stop eviction lawsuits, and mitigate harms.
Eviction Diversion Programs offer holistic sets of services to tenants at risk of eviction (after a lawsuit, after a notice, or otherwise). They provide rent help, mediation services, and then sometimes also legal representation and housing counseling. Their goal is to divert the situation away from an eviction trial and forcible set-out. Instead, they often result in rental assistance, a new payment plan, and a tenant-landlord agreement to continue their relationship.
Most Eviction Diversion Programs are hosted at courts, but they are created and staffed by a local coalition of service-providers and policy-makers.
Explore how you might set up an Eviction Diversion Program in your local courts and community.
What can courts do to prevent evictions?
State and local courts influence whether and how people are evicted. This page gathers together the initiatives courts can be leading to stop unlawful evictions and mitigate evictions' harms.
Eviction Interventions by Phase
We have been mapping out the interventions that are being piloted and proposed at different phases of the eviction system. We believe that policy-makers and service-providers must focus on both the long-term, systemic upstream changes to the housing market, as well as on the short-term changes to the services, rules, and policies of the eviction system itself.
Many of the academic studies and think tank proposals around addressing the eviction crisis focus on policies well upstream from the eviction process, that target the housing market and affordable housing more generally, such as changing the housing market dynamics to increase supply and tenant protections, like with rent control, a guaranteed right to housing, incentives to build ADUs (accessory dwelling units or granny-flats), or new zoning rules; increasing the availability of housing support for low-income families through increased public housing, vouchers, or increased funding assistance; or addressing people's mismatched income-to-rent ratio, with a higher minimum wage, and more available lending and forgiving repayment options to people.
The mapping below leaves out these categories of responses that are more focused on root causes, such as efforts aimed at increasing the stock of affordable housing, and focuses on, also crucial, short-term changes.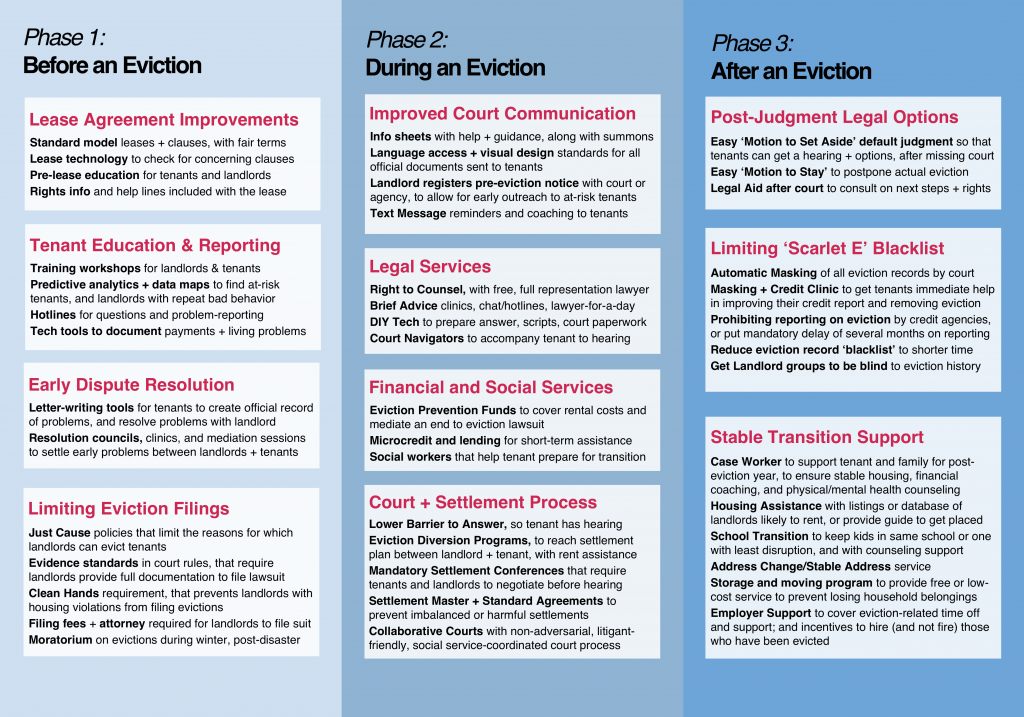 Phase 1 Solutions: Before the Eviction
Phase 1: Ideas for Before an Eviction
These innovations focus on educating tenants and landlords about their rights, improving rental agreements, and putting in place policies to reduce the likelihood an eviction is brought.
Rental Registries
Government-run registry of who landlords are, what properties they are renting, and who the renters are. This registry could be at the city, county, state, or national level. The registry can be used to do effective outreach and notification about benefits, protections, and services.
Tenant education and problem documentation
Workshops, seminars, and other outreach campaigns to educate tenants on their rights, including how to navigate court processes.
Landlord education programs to ensure they understand the law and know how best to resolve issues with tenants.
Hotlines and other resources for tenants worried about their housing conditions or a possible eviction, including tools to report code violations and tools to determine whether a tenant could be at risk of eviction.
Data-driven mappings and listings of landlords who engage in problematic behaviors, and predictive analysis of where inspectors and outreach might be focused.
Tools to document payments and living conditions, to support future legal proceedings or to be shared with other community members to identify systemic violations or support wider advocacy.
Lease improvements
Standard model leases with provisions that protect against common challenges faced by tenants, including providing for fairer procedures such as mediation.
Lease-related technology, such as tools that let tenants quickly check a lease for concerning clauses or missing terms.
Pre-lease signing education for tenants and landlords to increase awareness of key lease provisions, including dispute resolution options.
Information about rights, options, and legal helplines to be provided along with the lease.
Early dispute resolution
Letter-writing tools for tenants to communicate problems effectively to landlords.
Resolution councils and sessions to provide guidance to both landlords and tenants.
Limiting certain filings
Just cause standards that require landlords to show an acceptable cause for why they are filing for an eviction (e.g., based on a lease contract violation) or require a fee for evictions without cause.
Evidence standards that require landlords provide full documentation of notices and other documents before they can file for an eviction, or even require they provide proof that they have exhausted other mechanisms.
Clean Hands requirements preventing landlords with code violations from filing eviction actions.
Filing requirements such as higher fees or attorney involvement.
Moratorium on evictions for times when people are particularly vulnerable, including wintertime, disasters, public health emergencies or otherwise.
Phase 2 Solutions: During an Eviction
Phase 2
These innovations focus on improving tenants' understanding of what is happening, equipping them throughout the legal process, and connecting them to other resources and supports.
Improved notices and official documents about evictions
Information sheets from the court or the landlord (and their attorney) that would accompany a notice of a possible eviction action, a summons to court, or the eviction complaint and which provide information about legal aid, financial help, and other resources.
Requirements that landlords register any notice to evict with a mayor's office or other agency to increase awareness and tracking of informal evictions.
Visual design standards for all notices, summons, and complaints (and possibly all documents used by landlords and their attorneys) to ensure that these documents are legible, comprehensible, and actionable by tenants.
Language requirements that ensure landlords, attorneys, and courts are communicating in tenants' preferred language.
Financial services
Microcredit and lending services that responsibly provide short-term financial assistance, including emergency rental assistance.
Social Services
Social workers and eviction prevention counselors for tenants in public housing complexes, nonprofit housing, and private housing.
Legal services
[Applicable at all stages of the process] Right to counsel policies that provide counsel to those facing evictions, often throughout all stages of the process, and either for all tenants or based on established eligibility criteria (e.g., income level or type of eviction).
Phone and chat hotlines that provide guidance to tenants about their options and the process and refer them to other resources.
One-off advice clinics or consultations, such as lawyers-for-a-day programs, that provide tenants quick access to a lawyer who can help them form a strategy or represent them in court. Lawyers can often be accessed in court, at legal aid, or elsewhere.
DIY websites and paper materials that guide tenants through how to prepare documents, paperwork, and scripts for their court process. These can be through 'guided interviews,' 'document assembly programs' and other tools that provide interactive, tailored information and can provided by courts, self-help centers, legal aid groups, foundations, or other entities.
Google and other search engine strategies that improve the likelihood that tenants will find free legal help (or other guidance) if they search online, through courts and legal aid groups investing in outreach and search engine placement or through technology companies proactively choosing to foreground public interest resources if someone is searching for help with eviction.
Court processes
Lower barriers to answer, in those states that require a tenant to answer the lawsuit in order to get a hearing (and avoid a default). Eliminate filing fees for a tenant filing an Answer. Have the court do the 'Proof of Service' rather than the tenant. Lengthen the Answer response time to 14 days. Make a simple Answer form that does not require expert knowledge to complete. Allow tenants to e-file their answer, rather than doing it in person at a limited time. Or, at the most basic, remove the Answer requirement and guarantee all tenants a hearing.
Language access for all forms and communications, interpreters who are available pre court and the day of the hearing.
Collaborative courts and social services at court that give litigants additional support, including access to mental health supports and social service screening and referrals. This could also entail changing the structures and formalities of the court in order to allow litigants to speak more freely, find outcomes that serve their needs, and overcome other biases.
Court watchers or navigators, who accompany a litigant through the procedure and hearing and provide some amount of explanation and guidance (though not legal advice).
Negotiation and settlement assistance
Eviction diversion programs that bring landlords and tenants together after an eviction lawsuit has been filed to agree on a settlement plan that eliminates the lawsuit and typically includes rental assistance and other measures to help tenants stay stably-housed.
Mandatory settlement conferences that bring parties together before the hearing to work out a mutually beneficial settlement and close the lawsuit, or efforts to at lease encourage settlements.
Housing settlement masters and standards for default agreements to prevent imbalanced and harmful settlements. This could entail the court or legal aid providing Settlement Negotiation Templates that guide first-time litigants through what to ask for and how to navigate settlement talks and suggest provisions such as receiving a reference letter, full return of the security deposit, and financial consideration for poor living conditions.
Phase 3 Solutions: After an Eviction
Phase 3
These innovations focus on how to mitigate the consequences of an eviction, including facilitating access to new housing, education, and employment.
Post-Judgment court and legal improvements
Easy 'Motion to Set Aside' default judgment that tenants can get a hearing + options, after missing court
Easy 'Motion to Stay' to postpone actual eviction
Legal Aid after court to consult on next steps + rights
Stable Transition Support
Case Worker to support tenant and family for post-eviction year, to ensure stable housing, financial coaching, and physical/mental health counseling
Housing Assistance with listings or database of landlords likely to rent, or provide guide to get placed
School Transition to keep kids in same school or one with least disruption, and with counseling support
Address Change/Stable Address service
Storage and moving program to provide free or low-cost service to prevent losing household belongings
Employer Support to cover eviction-related time off and support; and incentives to hire (and not fire) those who have been evicted
Eviction masking and credit reports
Policies that seal evictions records or limit the extent to which landlords and others (such as credit providers) can take them into account.
Automatic Masking of all eviction records by court
Post-Court Masking + Credit Clinic to get tenants immediate help in improving their credit report
Prohibiting reporting on eviction by credit agencies, or put mandatory delay of several months on reporting
Reduce eviction record 'blacklist' to shorter time
Get Landlords Groups to be blind to eviction history
Eviction Services Profiles
What are new services being offered to people facing eviction or filing for eviction? What are case studies of eviction diversion programs, tenant and landlord academies, prevention programs, or other services?
New eviction services include projects around community navigators, improved court services, new legal aid, tenant education, and more.
Eviction Technology Profiles
What kinds of websites, apps, and other technology tools can help people dealing with an eviction?
More on Eviction Prevention Technology tools
What technology can be used to document living conditions, gather evidence, and correspond with landlords?
JustFix.nyc tech tools for tenants, that provide people with the ability to record problems with their living conditions, write official letters to their landlord, prepare evidence for court hearings, and connect with other tenants who are dealing with similar issues/landlords
Dear Landlord (Australia) and Hello Landlord (US) – for tenants to write formal legal letters about problems, and to create a trail of evidence that can be useful in future court actions
Tech to help tenants (and advocates) prepare court filings, answers to eviction lawsuits, legal strategies on defenses to use, and scripts to use at hearings
MADE self help for eviction in Boston, that lets tenants
Arizona Eviction Self Help website (Pima County, Arizona), that walks tenants facing eviction through their possible defenses, options, and scripts they can use to communicate their issues
Tech to train tenants and landlords on their rights, and how to represent themselves in a legal proceeding
Represent online simulation game for self-represented tenants (Northeastern University and local legal aid groups in New England), that prepares tenants for what to expect at housing court
Rentervention chatbot (Chicago), that lets tenants chat with an interactive, pre-programmed system to learn their rights and legal options based on their scenario
Data and Tech to identify poor living conditions and possible future evictions, landlord-tenant legal issues
Heat Seek NYC/GotHeat that use a low-cost temperature sensor system to identify buildings that have problems with heat. This might allow for easier ways to verify tenants' complaints, document problems, and direct inspection resources. GotHeat also has a data strategy, of data sets of housing at risk for heating problems to find likely targets for inspection.
Data-Driven Inspections in San Jose, in which the city's Code Enforcement Office prioritizes its inspection strategy based on a data model developed to be more precise at finding likely housing code violations. The model looks at the amount of time since past violations; presence of previous violations; absence of recent building permits; nearby violation rates; and other factors. This was built with fellows from the group Data Science for Social Good, and Univ. of Chicago's Center for Data Science and Public Policy (see their final summary).
DC Housing Inspection Algorithms, in which the city's Department of Consumer and Regulatory Affairs has changed its inspection model of rental housing based on a collaboration with Georgetown University data science students, to develop an algorithm that better targets the inspections + be more proactive in finding violations. See more on this work in DC, with this pdf report.
Tech to inform policy:
---
Eviction Emergency Measures
These innovations focus on how to respond to special circumstances like a natural disaster, public health emergency, or financial crisis that has particular effects on renters — and that threaten to worsen the rates and outcomes of evictions.
Eviction Diversion programs across the U.S.
More cities and courts are setting up prevention programs to divert eviction cases out of formal court proceedings, and towards mediation. Each of these eviction diversion programs has a unique structure and plan.
What are best practices for outreach, mediation, legal services, coordination with rental assistance, holistic social services, and settlements?
Explore eviction diversion programs from around the country, with this clearinghouse. And if you are aware of other eviction diversion programs, please let us know!