One of the most popular types of eviction prevention efforts are Eviction Diversion Programs. This model involves incentivizing tenants and landlords to enter a mediation program to come to a mutually acceptable agreement outside of court.
What is an Eviction Diversion program?
Many local jurisdictions have an array of social, legal, mediation, and housing services available to landlords & tenants.
An Eviction Diversion Program formalizes these services into a clear, coordinated process. Landlords or tenants can sign up for the Program. They then receive a continuum of services to help avoid an official eviction court order, and reach a settlement plan that works for both of them.
They also receive rental assistance and social services to help address the root problems of the dispute.
An Eviction Diversion Program is a holistic combination of services that divert a landlord-tenant dispute away from a court judgment.
An Eviction Diversion Program aims to have landlords and tenants create a mutually acceptable agreement that stops the court case from proceeding — and that ultimately promotes housing stability.
Diversion programs do this by coordinating multiple streams of help:
Rental assistance to make the tenant and landlord whole again, to make up for rent owed;
Legal representation to ensure that the law is being followed and people's rights are being upheld — including the masking of eviction records;
Mediation services to help broker a settlement agreement, payment plan, and forward steps for the landlord and tenant;
Other financial and social services to help stabilize the tenant's situation, get more financial resources, connect to housing resources, help support the children involved, and get health resources as needed.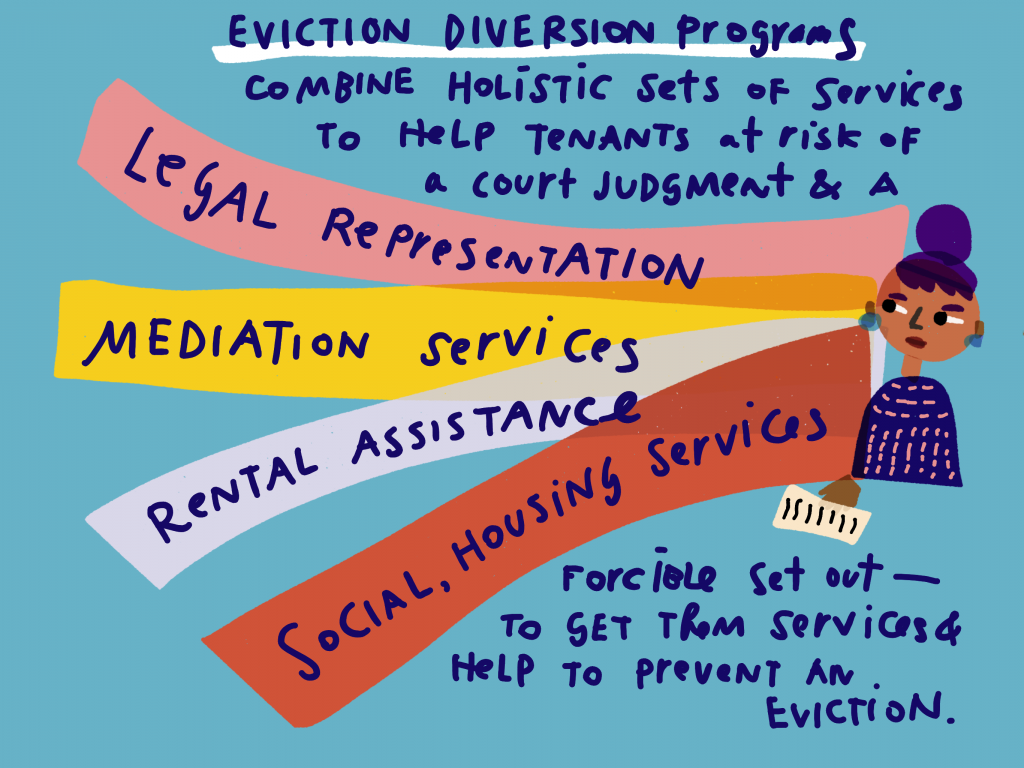 Key options for an Eviction Diversion Program
If a local group is creating a new Eviction Diversion Program (or formalizing current services into an official program), they may have some key choices to make about how to run the Program.
Court-led or Court-adjacent? Does the court coordinate and host the program? Do all tenants and landlords in the court know about the program, and are the services woven into the court process? Or is the court more of a supporting player, with some limited coordination with other groups that are driving the program?
Is the program available for tenants & landlords pre-filing or post-filing? The post-filing Eviction Diversion programs begin once an eviction lawsuit has been filed in court, by the landlord against a tenant. The pre-filing Eviction Diversion programs can begin when a warning notice is given, or even when there is a dispute or back-rent situation that arises.
Mandatory or not to participate, to use the court? Do all landlords and tenants who want to use the courts for an eviction, need to use the Diversion program? Or, for any landlord that wants to evict for nonpayment of rent — do they need to first go through the Eviction Diversion Program? Or is participation totally voluntary?
Income requirements? Do tenants or landlords have to prove that they are below a certain financial threshold to participate? Do they need to prove a COVID-hardship?
Mandatory status conference? Will the court require a pre-trial status conference in which the judge explains the diversion program to the litigants?
Formalized into law? Will there be a court administrative order, a local law, or a statewide law that formally creates the eviction diversion program? And that sets forth rules around court procedure and mandatory procedure?
What kind of Eviction Diversion program is right for your jurisdiction?
The National Center for State Courts have produced a website, the Eviction Diversion Diagnostic Tool, to help courts and other leaders determine what kind of new court-based or court-adjacent eviction program might be a good fit.
You will be asked a number of questions about your jurisdiction and your goals for a potential eviction diversion program. These answers will build a custom resource guide that will offer you important considerations, best practices, and resources on eviction diversion based on the type of eviction diversion program that seems like the best fit for your jurisdiction.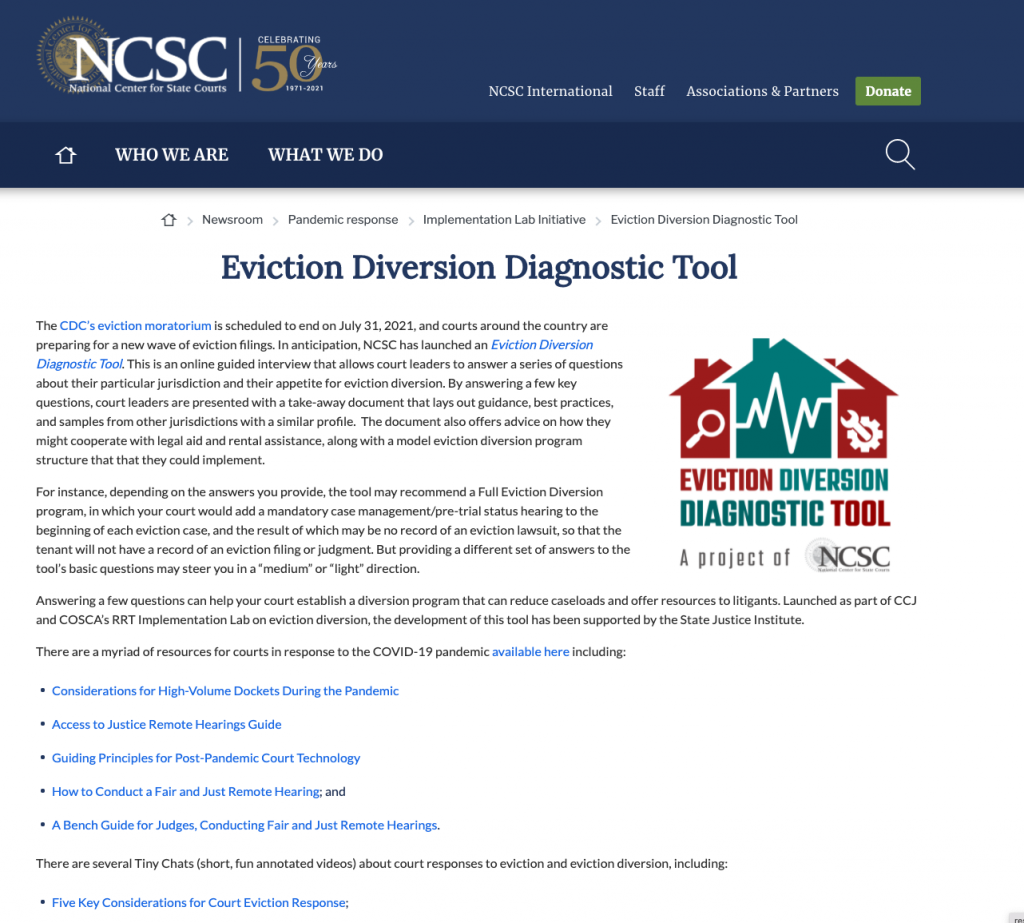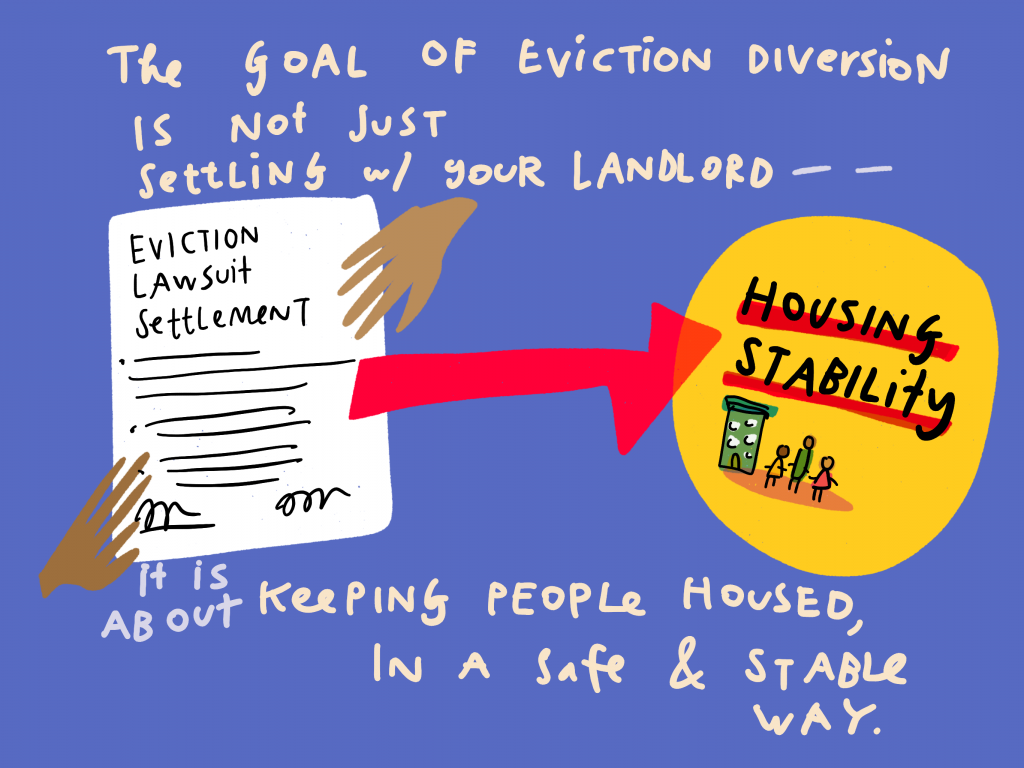 Emergency Rental Assistance How-To Toolkit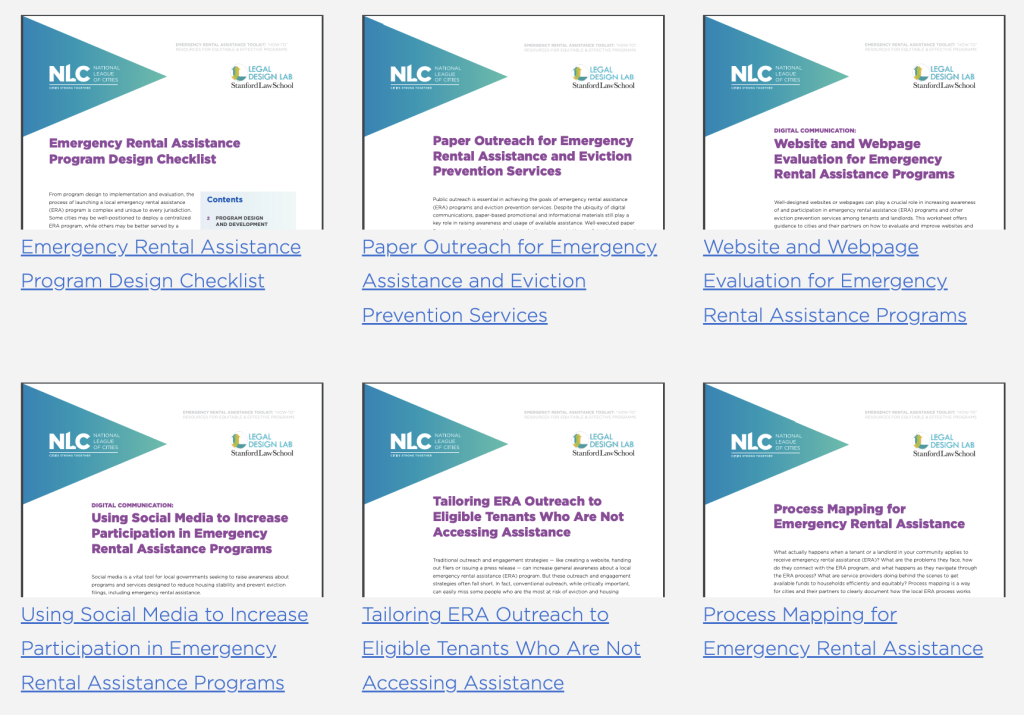 The Emergency Rental Assistance Toolkit is a 12-part series of how-to guides for making more impactful, equitable, and accessible Emergency Rental Assistance Programs. The ERA Toolkit was made by the National League of Cities and Stanford Legal Design Lab, based on their technical assistance and research with cities across the US.
Read more on Eviction Diversion Program best practices
Explore Eviction Diversion programs around the country
A full list of Eviction Diversion Programs
Where in the US are there working Eviction Diversion Programs?
Thank you to the Urban Institute for the national scan report of programs that are doing eviction diversion work across the US. Here is a list as of Summer 2021 of Eviction Diversion Programs.
CALIFORNIA
◼ Eviction Defense Collaborative (San Francisco)
◼ Sacramento CARES Mediation Program (Sacramento)
◼ Sargent Shriver Civil Counsel Act (multiple cities)

COLORADO
◼ Eviction Legal Defense Pilot (Denver)
◼ COVID-19 Eviction Defense Project (statewide)

CONNECTICUT
◼ Eviction and Foreclosure Prevention Program (statewide)

DELAWARE
◼ Joint Effort on Foreclosure and Eviction Prevention (statewide)

DISTRICT OF COLUMBIA
◼ Legal Aid Society of the District of Columbia (District-wide)

FLORIDA
◼ Pinellas Eviction Diversion Program (Pinellas County)
◼ COVID-19 Eviction Diversion Program (Orange County)

HAWAII
◼ STAE (Steps to Avoid Eviction) (Statewide)
ILLINOIS
◼ Chicago Eviction Diversion Program/Court-based Emergency Rental Assistance (CERA)
(Chicago)
◼ COVID-19 Eviction Prevention Project (Cook County)
◼ Eviction Mediation Program (Kane County)

INDIANA
◼ Landlord and Tenant Settlement Conference Program (statewide)
IOWA
◼ Polk County eviction program (Polk County)

KENTUCKY
◼ Healthy at Home Eviction Relief Fund (statewide)

MASSACHUSETTS
◼ Eviction Diversion Initiative (statewide)
◼ HomeStart (Boston)
MICHIGAN
◼ 67th District Court Eviction Diversion Program (Flint)
◼ Eviction Diversion Program (statewide)
◼ Kalamazoo County Eviction Diversion Program (Kalamazoo County)
◼ Jackson County Eviction Diversion Program (Jackson County)

MINNESOTA
◼ Ramsey County Housing Court Clinic (Ramsey County)

MONTANA
◼ Montana Eviction Intervention Project (statewide)

NEVADA
◼ Eviction Mediation Program (statewide)

NEW HAMPSHIRE
◼ Landlord and Tenant Mediation Pilot Project (statewide, with mediation piloted in two courts)

NEW YORK
◼ Universal Access to Counsel (New York City)
◼ Red Hook Community Justice Center (Red Hook, Brooklyn, New York City)
◼ Eviction Prevention Pilot Initiative (Monroe County)
NORTH CAROLINA
◼ Durham Eviction Diversion Program (Durham)
◼ Human Relations Eviction Diversion Mediation (Forsyth County)

OHIO
◼ Community Mediation Services of Central Ohio (Columbus/Franklin County)
◼ Restart CLE and Cuyahoga County (Cleveland/Cuyahoga County)

PENNSYLVANIA
◼ Eviction Prevention and Intervention Coalition (Montgomery County)
◼ Philadelphia Eviction Prevention Project/Eviction Diversion Program (Philadelphia)

RHODE ISLAND
◼ Safe Harbor Housing Program (statewide)

SOUTH CAROLINA
◼ Charleston County Housing Court (Charleston County)

TENNESSEE
◼ Alternative Dispute Resolution Plan (statewide)

TEXAS
◼ Texas Eviction Diversion Program (statewide)

VERMONT
◼ Rental Housing Stabilization Program/Landlord-Tenant Mediation Program (statewide)
VIRGINIA
◼ Housing Justice Program (Richmond)
◼ City of Richmond Eviction Diversion Program (Richmond)
◼ Virginia Eviction Reduction Pilot (statewide)

WASHINGTON
◼ Eviction Resolution Pilot Program (Clark, King, Pierce, Snohomish, Spokane, and Thurston Counties)

WISCONSIN
◼ Eviction Defense Project (Dane and Milwaukee Counties)