In 2020, the city of Philadelphia launched an Eviction Diversion Program. The City Council passed a bill to create it in June 2020, and then launched it in late August.
Landlords can sign up for the Diversion program on the city government website. After sign up and screening (that takes about 48 hours), there will be a mediation effort (a 'conciliation conference') scheduled within 30 days. Participants can check the status of their case on the website. They also can receive updates by text message and email.
Each tenant-landlord pair will receive a housing counselor (funded by the city) to review finances, apply for resources, communicate at the mediation, and try to reach a successful settlement. In most cases, parties reach an agreement outside of court (over 70% as of the website's self-reported stats in April 2021).
The mediations are held over phone, on a conference call. A mediator from the Good Shepherd Mediation Program leads the conversation and tries to facilitate an agreement.
A tenant can also register for the Eviction Diversion Program by calling the Tenant Hotline (not through the website).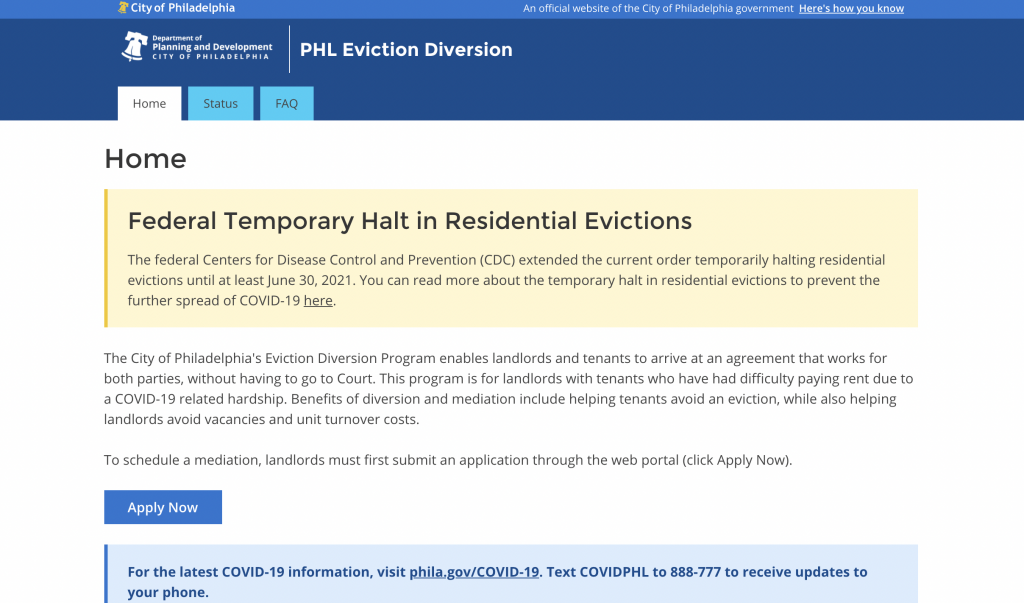 Court rules changes for mandatory diversion participation
This has been launched in coordination with other new laws and policies meant to incentivize participation in the program.
The Municipal Court of Philadelphia (in which evictions and landlord-tenant court matters are held) has ordered that, as of April 2021 for 45 days, there were mandatory efforts to encourage more possible eviction actions to use the Diversion Program and similar efforts:
landlords must apply to PHLRentAssist, the city's rental assistance program, before they can take eviction action against their tenant
landlords must enroll in the Eviction Diversion Program before filing an eviction court action for nonpayment of rent.
Before this April measure, there were preliminary signs of success. Between September 2020 and mid-March 2021, the program had 2500 applications. A survey of landlords, though , found that most did not know the program existed.
Read more:
Program Overview information
Philadelphia's Eviction Diversion through Pre-Filing Mediation Program
The Good Shepherd Mediation Program aims to empower people to resolve disputes. They provide a space wherein a completely neutral third party person helps the other parties clarify their underlying issues and create their own solution while opening lines of communication between the two so they can deal with future problems. This non-profit organization recently partnered with the city of Philadelphia in creating a pre-filing eviction mediation program in order to help tenants and landlords discuss their problems and hopefully resolve them before taking it to court; this would benefit tenants as eviction cases, regardless of the outcome, automatically go on their record and affect future ability to secure housing.
Currently in piloting phase
Funded by the city. More details to be shared soon.
Size (number of beneficiaries)
---
Stakeholders
Who designed and set up the program?
City Council created an eviction diversion program, meant for tenants who have missed payment because of COVID-related financial hardships. Good Shepherd will act as the primary mediation program.
Who runs and manages the program?
The program is in partnership with the City of Philadelphia. Good Shepherd will rely heavily on volunteers for landlord/tenant mediations.
Currently, the program was created without any funding. Because Good Shepherd Mediation Program is a non-profit organization, they will have to fundraise or rely on the city to provide funding.
Intended Beneficiaries: Who does the program target?
It's a program that targets tenants and landlords, but it primarily aims to benefit tenants since a pre-filing mediation might prevent an eviction from going on their record and making it harder to secure future housing.
---
Program Details
How does the program work? What are the typical paths of action that the beneficiary + the service-provider take?
Before filing an eviction case in court, the landlord must engage in mediation with the tenant to try and resolve the issue before it goes on record. If the tenant creates a payment plan, the landlord must accept it. The landlord also has to waive all late fees on overdue rent.
What assets can be shared for others to use?
Given the COVID-19 pandemic, have there been any alterations to program functions?
There are some materials at the bottom of the page. Feel free to also contact the program and check out their FaceBook page for more details.
Zoom has been a necessary tool because of the inability to mediate in person. Some zoom functions, like sharing screens to go over documents or increased flexibility with the consent form due to its virtual nature have been helpful, but in cases where either the landlord or tenant does not have access to zoom, mediations have been conducted via conference calls.
---
Evidence Base
What are the plans for monitoring and evaluation?
At the end of each mediation session, both parties fill out an evaluation of how the meeting went. The group also follows up with the parties by conducting surveys, but it's often difficult to reach them, as their numbers or addresses might be different.
Have any evaluations been conducted so far?
---
Contact and Follow-Up Info
Point of Contact for more information
Sue Wasserkrug, SWasserkrug@phillymediators.org