How can you create a webpage that can help a person who is searching the Internet for rent problems, eviction notices, housing court, and other eviction-related problems?
This guide can let you review your current website, and make improvements to create a user-friendly, modern web resource.
Does your region have a central eviction help page?
The ideal is that your region (city, state, or broader area) has a central webpage with all of the key services and information for someone dealing with an eviction. This should be a memorable URL that is updated with the changing info and services. Even if an ERAP program runs out of money or a new clinic opens up, the URL remains the same. This is the central place to find high quality, local, public interest information around eviction prevention.
The first step is to work on setting such a central webpage up, and having a group that is dedicated to maintaining and marketing it.
You can then link and connect the other legal aid, court help, mediation, city government, and other web pages to this central portal website.
Is your eviction help website performing well?
Even before you create a single portal site, you can also be improving individual help pages.
Your regional team should also be checking on existing websites from legal aid groups, ERAP programs, courts, city agencies, and others. Are people with eviction problems able to find these pages? Are they engaging with them? Or are there issues?
There are 4 key factors to work on, to make a quality site: discovery, tech, design, and content. Follow this quick scan checklist to see how your current site is doing.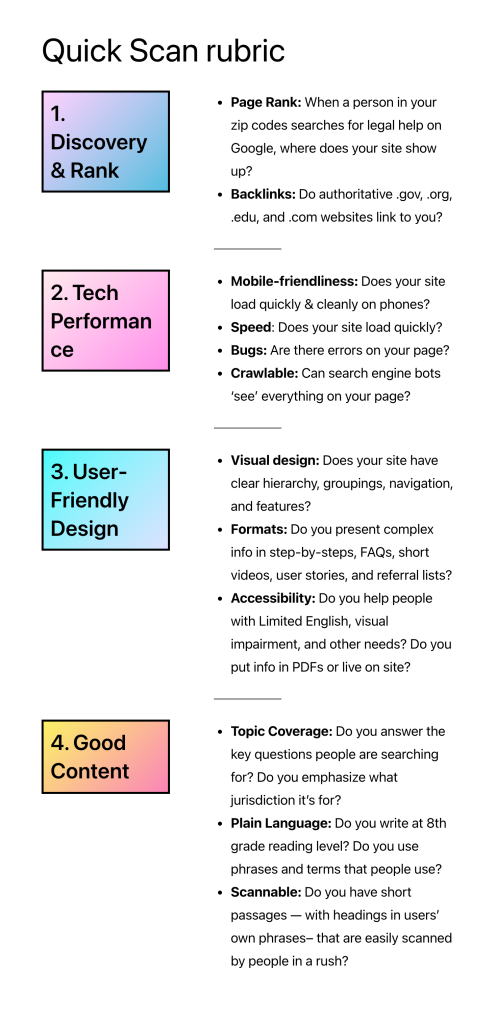 You can find more resources at the Legal Help Dashboard. This site has checkup tools, technical assistance, and design and content guides to follow to improve your site's discoverability & user engagement.