Overview of Eviction Protection Laws & Policies
How can laws and policies prevent evictions?
Local ordinances, state and federal laws, court rules, and government agency policy can all play key rules in preventing evictions and mitigating their harms.
Improved policies around eviction prevention can ensure:
Tenants will have more capability, time, and assistance to resolve problems with landlords, before they turn into eviction lawsuits or forced moves.
Landlords will only be able to evict a tenant in selective situations.
Landlords' calculus will change about when to pursue eviction vs. working it out with the tenant.
There will be more accountability for harmful and illegal actions by landlords.
Laws about fair housing, due process, and other areas of housing justice will be upheld.
What are the key policy areas for eviction prevention?
Government agencies, legislators, and courts can develop eviction protection policies in 4 key areas. These areas correspond to different points on a person's justice journey through a formal or informal eviction.
Area 1: Upstream policies that allow for better relationships and problem-solving between tenants and landlords. These policies have more notice & options before a lawsuit is filed, and address problems with landlords.
Area 2: Lawsuit Limits that stop or slow landlords from filing an eviction case in many scenarios. This includes just cause rules, eviction moratoria, and increased requirements for filing fees and proof to file a lawsuit.
Area 3: Court Reforms to get more options, more time and process, and more support and advice to defend ones' rights.
Area 4: After Judgment to mitigate harmful consequences, reverse an order, and hold actors accountable if they are engaging in illegal behavior.
Legislative packages of eviction prevention policies
Many jurisdictions have assembled several policies together into a single Tenant Protection policy or legislation. These packages often include the specific policies discussed in more detail below.
Governments can introduce overarching policies that include a variety of specific policy reforms in one package.
San Francisco: passed Prop F, Tenant Right to Counsel in November of 2018 which guaranteed any tenant right to counsel in an eviction matter.
San Jose, California: a Tenant Protection Ordinance http://www.sanjoseca.gov/DocumentCenter/View/68577
Illinois: Immigrant Tenant Protection Act that offers tenant various immigration-related protections. Landlords are not allowed to disclose or threaten to disclose a tenant's citizenship status for the purpose of intimidating or retaliating against the tenant. They are also barred from bringing evictions "based solely or in part on the immigration or citizenship status of a tenant." If they violate the law, tenants are empowered to sue for damages in civil court. The bill was inspired partly by a similar law enacted in California in 2018. More Information/Public Act 101-0439
Upstream Policies to Prevent Evictions
P
olicies that can prevent evictions
before a lawsuit
As a landlord and tenant are forming their relationship and dealing with problems, tenant protections can help them avoid conflicts, know their rights, and preserve stable, safe housing.
Some upstream eviction prevention policies include:
Lease packet that includes mandatory renter rights & legal aid/ERAP services information. The lease should also follow best practices.
Clear process to raise habitability concerns so the renter can address living conditions without complicated withholding/escrow process.
Early notice to tenant if landlord is considering eviction, with clear info about how to stop the eviction.
Notice to a govt. agency if landlord is considering eviction, so they can connect with tenant with resources.
Increased penalties for lockouts, shutoffs, and other 'self help' illegal eviction actions.
Cash For Keys policies that encourage landlords to pay tenants to move rather than evict them.
Landlord incentives & support programs
Various jurisdictions have tried more landlord-oriented policies that take a more 'carrot' rather than 'stick' approach.
Washington State has a Landlord Mitigation Program to encourage more landlords to work with tenants receiving rental assistance. This program gives money to the landlord to cover costs they have for tenants' move in, upgrading units, loss of rent, and damages. This can help incentivize landlords who have housing vouchers or use rental assistance.
Tulsa, Oklahoma has a Gold Star Landlord program to reward and incentivize landlords to follow best practices. This includes participation in mediation programs, inspections of vacant rentals, and increasing affordable housing opportunities. Participant landlords then get premium processing for rent assistance applications, and listing of units on the city's waitlist. Read more about the program here.
Government regulation & oversight of rentals
Rental Registries
Upstream from evictions, one policy proposal is for the government to better track which landlords are renting which properties. This is called a Rental Registry.
Local, state, or national governments could maintain this database of rental properties. This would allow them to better communicate with landlords and tenants at these properties, especially in times of emergency laws and rules changes like during Covid-19. It would also help them conduct more effective oversight of rental units legality and habitability.
The registry could be a place to track rent increases, notices, and eviction actions. It could make sure that all legal procedure is being followed — to stop illegal rent hikes, unenforceable notices, or informal evictions.
Privacy concerns can be addressed by keeping tenant names and household-size private.
See proposals for a federal rent registry here, with more detail here in a Shelterforce piece by Shane Philips.
Some local governments have set up registries:
Los Angeles
San Jose, California
Berkeley, California
Santa Monica, California
Portland, Oregon
Increased oversight and inspection of rental units
Government agencies can also change their policies about ensuring that rental homes are habitable and safe. This includes having the attorney general's office enforcing consumer protection and safety codes of the home.
It also includes court process reform, to make it easier for tenants to bring actions against their landlords for living conditions that are dangerous or inhabitable.
Limits on Eviction Lawsuits
Limits on lawsuits overview
When can a landlord bring a tenant to court to try to force them out of the rental home? These protections put more limits on when landlords can use the court to get an order for a tenant to move or to pay them.
Some lawsuit limits include:
Just Cause Eviction standards that require landlords to show that they have a 'good reason' to evict (like violation of lease, owner move-in). See below for more detail.
Clean Hands eviction requirements that limit landlords from filing if they have had past code violations or abuse of the court system.
Emergency Moratoria for extreme weather, natural disasters, public health.
Pre-filing mediation policies that require landlords to try other ways to resolve the problem before using the courts.
Increased Filing Fees to decrease the chance that landlords are 'robo filing' lawsuits without first pursuing other ways to resolve the problem.
Filing Attachment requirements to ensure the landlord has all the proof and documents to show they can win the eviction case.
Just Cause limits on when landlords can evict
A Just Cause eviction policy limits when a landlord can file an eviction lawsuit against a tenant. It aims to stop landlords from arbitrarily evicting tenants.
Governments can restrict when landlords are able to use courts & law enforcement to evict a tenant. They can limit evictions to when the landlord is able to prove 'good cause' for it.
Introducing a 'Just Cause' standard would restrict lawsuits. Landlords can only use the courts to evict a tenant when they can show a good reason for the eviction. These 'just causes' may include causes like not paying rent, behavior that breaches the lease, or damage to the unit.
Which jurisdictions have adopted Just Cause standards, restricting eviction filings?
San Francisco (for rent-regulated housing)
New York City (for rent-regulated housing)
Portland, Oregon: the city requires landlords to pay renters' moving costs if they evict them wihtout cause — or if they force the tenants to move vecause of a rent increase of 10% or more
Berkeley, California
New Hampshire (statewide)
New Jersey (statewide)
Philadelphia, Pennsylvania (2018)
Seattle, Washington (for month-to-month rentals, and informal rentals without a written lease). Seattle Just Cause Eviction Ordinance
Read more about an analysis of how Just Cause eviction ordinances changed filing rates in four California cities: https://jpia.princeton.edu/news/effect-just-cause-eviction-ordinances-eviction-four-california-cities
Emergency Moratoria on evictions
These rules ban evictions during particular crises — like pandemics, natural disasters, or extreme weather.
Public-health protections
Moratorium on eviction filings, execution of writs, and utility shutoff during an emergency like a public health epidemic. See some of the policy and rule trackers for the COVID-19 pandemic:
Weather-related protections
Moratorium on evictions in Winter, either through formal law or informal policy, like
In Seattle, which has provisionally passed a law (as of Feb. 2020) through the City Council that bans some winter evictions between November and February;
In DC, where the sheriffs have an official policy not execute an eviction order when there is precipitation falling or when the weather is forecast to be below 32 degrees;
In the Chicago-area, where sheriffs and courts have policies not to execute eviction orders on Christmas, New Year's Day, or when it is too cold (usually under 15 degrees)
Court Policies that can Prevent Evictions
Court policies overview
When happens during an eviction lawsuit? This set of policies focus on court-related rules, protections, and procedures that can contribute to eviction protection.
Local courts & state court leadership can work on these policies and programs to prevent evictions:
Right to Counsel to have expert advice & representation
Defenses  &  counter-claim tools to know your rights & be able to raise them
Summons, Complaint, Answer Forms, and Know Your Rights materials that lay out clear, visual descriptions of rights, responsibilities, and services
Rules that slow the court process, so it moves from a 'rocket docket' to one with more ability to raise claims, present evidence, and work out a fair settlement.
Mandatory settlement conferences, mediation & diversion programs to avoid an eviction judgment & get holistic assistance to solve the root problem.
Judges that are trained in housing law & self-represented litigants, so they're able to apply the law correctly & treat people without lawyers fairly.
Court navigators, Self-Help Centers, and unbundled services to help a person navigate the system.
Oversight of settlement terms & court proceedings so illegal terms or due process violations are addressed.
Recording of the trial, to 'preserve the record' if you want to appeal.
Eviction Court Procedural Reform
in detail
One area for policy reform is how the filing, procedure, and resolution of an eviction lawsuit works in a court. This reform could occur within the court system, or from the outside legislature or executive policy.
What are some of these court procedural reforms?
Court reform involves changing the rules of how the court process works, including timelines, use of mediation, judges' & clerk's management of the parties, and how hearings are conducted.
Required use of preventive services before filing lawsuit
Before landlords can use the court to evict a lawsuit, the court can require them to exhaust other services meant to solve landlord-tenant problems. This could include requirements to:
Apply for rental assistance, that can resolve a nonpayment of rent situation
Use of mediation services to address the problem before coming to court
The Philadelphia municipal courts ordered that during the COVID emergency, landlords could not file eviction lawsuits until they had applied for rental assistance or used the eviction diversion program.
Lengthening hearing process & set-out time
How quickly after a landlord files an eviction lawsuit, can they get an order and have the sheriff set out the tenant? This timeframe matters to the tenant's ability to respond to the lawsuit, as well as their ability to make a plan for stable housing transition.
Many states are pursuing policy reform to lengthen this timeline:
How many days after the due date for the rent does the tenant have to make a late payment, before a landlord can give them a warning notice (like a notice to vacate or to remedy)?
How many days after the warning notice can the landlord file a lawsuit to evict)?
How many days after the lawsuit is filed, will there be a hearing in which an eviction order can be issued?
How many days after the court issues an eviction order, can the landlord have the sheriff forcibly set out the tenant?
See a 2019 comparison from the Las Vegas Review-Journal of how quickly a tenant can be removed from their home after falling behind on rent.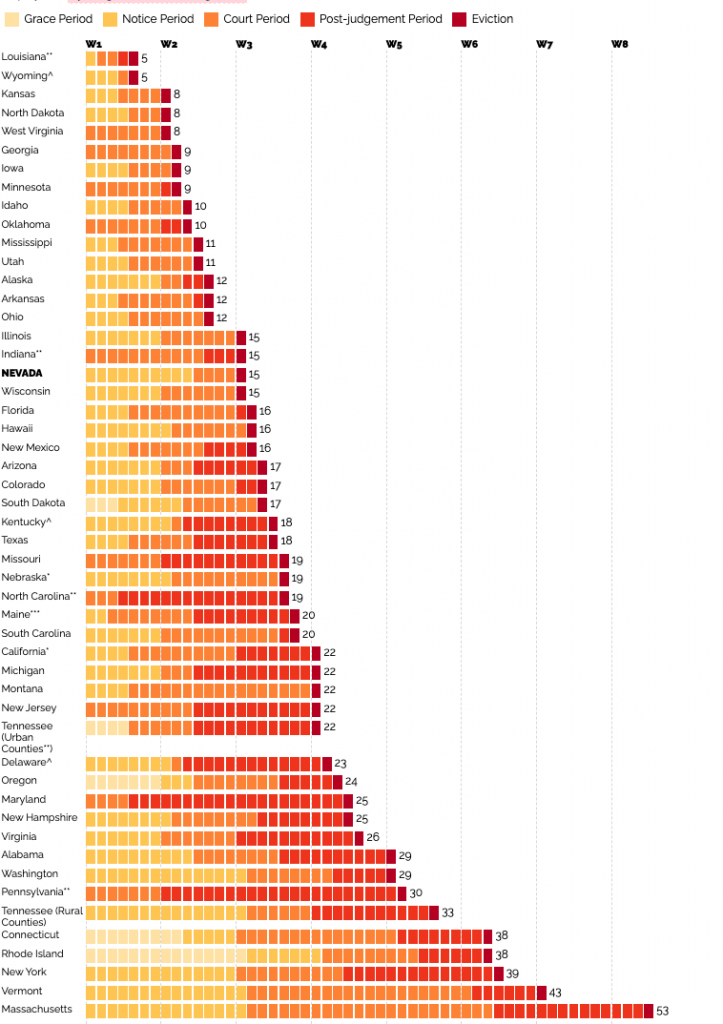 See a 2018 overview of each state's timelines. This may be out of date, with recent policy reforms.
Filing Fee reform
How much does it cost for a landlord to bring a lawsuit to evict a tenant? Increasing this filing fee at the court can change how landlords use evictions. Read more from the Urban Institute, https://housingmatters.urban.org/research-summary/high-cost-eviction-and-low-cost-filing
A higher fee might encourage them to work out solutions through alternative, non-adversarial methods. It might also discourage the filing of lawsuits as a collective measure — when landlords file lawsuits regularly but without actually wanting to remove the tenant, just pressure them to pay on time.
Improved Court Forms & Notices
Many courts have developed new document designs, to make housing court easier to understand — and more likely that tenants and landlords will participate in it.
Colorado recently passed laws to change court forms to those that more clearly communicate parties' rights. See the Colorado General Assembly legislation here. This law requires that:
"After a complaint is filed by a landlord, the clerk of the court or the attorney for the plaintiff shall issue a summons, including information concerning filing an answer and legal aid."
Courts in Hamilton County, Ohio (Cincinnati area) has launched user-friendly notices and summons to improve how people are told of eviction lawsuits against them. This new notice has clear links to services, communication about the court date and time, and support for attending court.
The Texas Supreme Court issued an order that notices during the COVID period just include alerts to tenants about the services that a person can receive, including the statewide eviction diversion program and legal aid help.
Evidence standards for landlords
Landlords might also be required to have evidence of the problem before they can file a lawsuit against a tenant. They must be able to show full documentation of notices, receipts, leases, and other proof that they have followed all required procedures and have a just cause for evicting a tenant.
They might also have to file an affidavit certifying that their property is not covered by any eviction protection laws (like moratoria or otherwise).
Similar standards have been implemented in New York courts around debt collection cases, to prevent 'sewer service' and other due process failures.
Specialized, collaborative housing court
Who is running the court process? Specialized housing courts have trained judges, who are experts in housing law and know the entire system — rather than judges who have no special knowledge in the area.
Ideally, the court process will also have connections to legal and social services, resources like help desks and hotlines, and staff who can help the litigants use alternatives dispute resolution methods rather than go to trial. As the Associate Attorney General Gupta specified in her June 24, 2021 letter:
"Courts could work with community-based organizations (CBOs) and legal service providers in their jurisdiction to raise awareness about the availability of rental assistance funds. Courts might make space available, whether virtual or physical, to CBOs and legal service providers to allow them to offer assistance to parties and maximize the chance for successful diversion."
One policy requirement is that only expert judges would be allowed to hear cases, and that there must be social service workers present in the court to offer help in transitional housing, financial coaching, rental assistance, and other services to prevent homelessness.
This can include situations like in Tennessee, where courts establish on-site mediation programs.
Right To Counsel in eviction actions
Right to counsel, or getting a free lawyer, is another popular policy to mitigate evictions.
In most civil (not criminal) cases, people do not get free attorneys to help them. There is a general Civil Right to Counsel movement, that proposes people (especially those with lower income) in which tenants get free lawyers: http://civilrighttocounsel.org/map.
Several jurisdictions have passed Right to Counsel policies for people facing evictions. In some cases, these policies have been turned into full programs. Other jurisdictions have a policy mandate but haven't secured the funding or planning to implement a Right to Counsel program yet.
Find an evaluation of NYC's right to counsel program by NYU Furman Center.
The city of Philadelphia Amended Chapter 9-800 of The Philadelphia Code, entitled "Landlord and Tenant," by adding a new Section 9-808, entitled "Legal Representation in Landlord Tenant Court," providing for access to free legal representation to the City of Philadelphia's low-income residents facing eviction in Landlord Tenant Court.
After Judgment policies
After judgment policies overview
Even after there is a court order for eviction, there are still key policies and protections that can stop the eviction.
Some after-eviction judgment policies include:
Record sealing or masking (even at point of filing onward) so that the lawsuit doesn't harm their future housing prospects.
Right to cure, and stop the eviction if they're able to pay or fix the problem.
Vacate judgment opportunity, for those who missed their trial
Motion to Stay in court, to postpone a set-out.
Oversight of eviction actions, so that attorney generals are watching out for lawsuit problems, due process violations, or other concerns. Tenants might be able to bring 'wrongful eviction' lawsuit
Eviction Record Masking, Sealing & Privacy
Records that you had an eviction filed against you, or an official judgment against you — can harm you down the road. These policies focus on limiting access to these records.
Masking and sealing of eviction records is an increasingly popular policy initiative. These policies aim to limit access to records that an eviction lawsuit has been filed against a certain person — or that the court has issued an eviction order against them. These 'Scarlet E' records can harm a person's future job, housing, and credit opportunities.
Minnesota has established limited Expungement of Eviction ations, so that a person can apply for thier record to be sealed & a judge can decide whether to do so. Read more about Expunging an Eviction Case in Minnesota.
For example, there are new laws under consideration in DC to mask eviction records.
Read More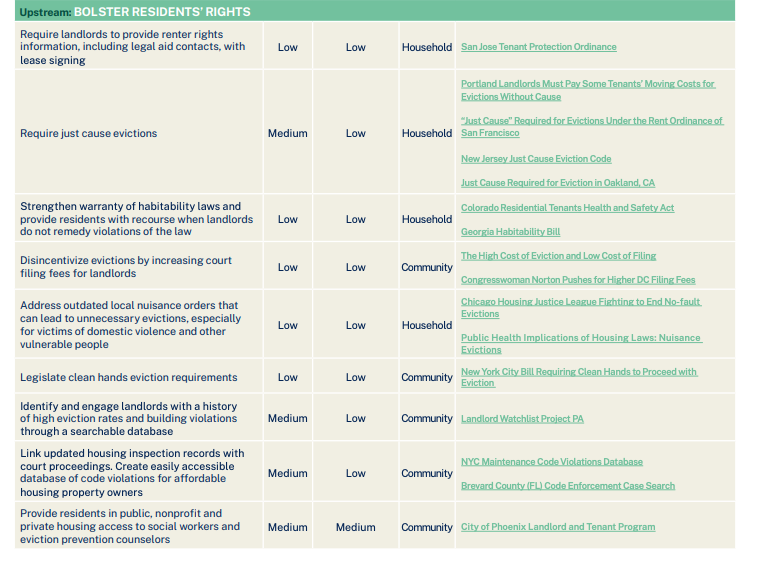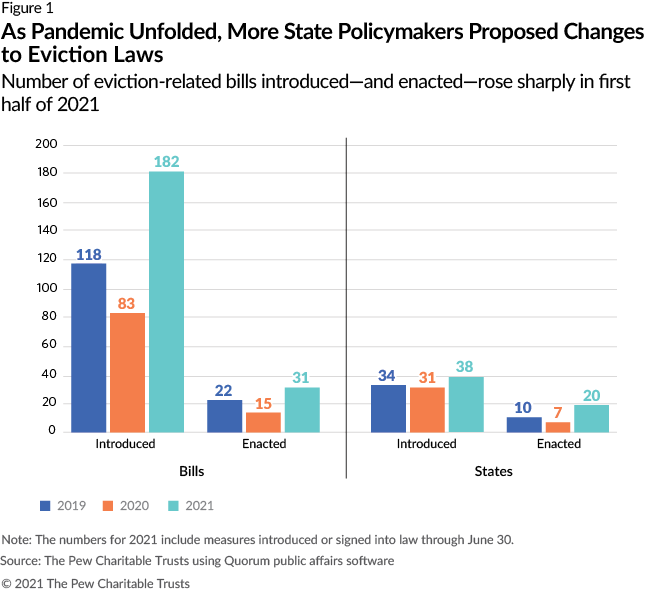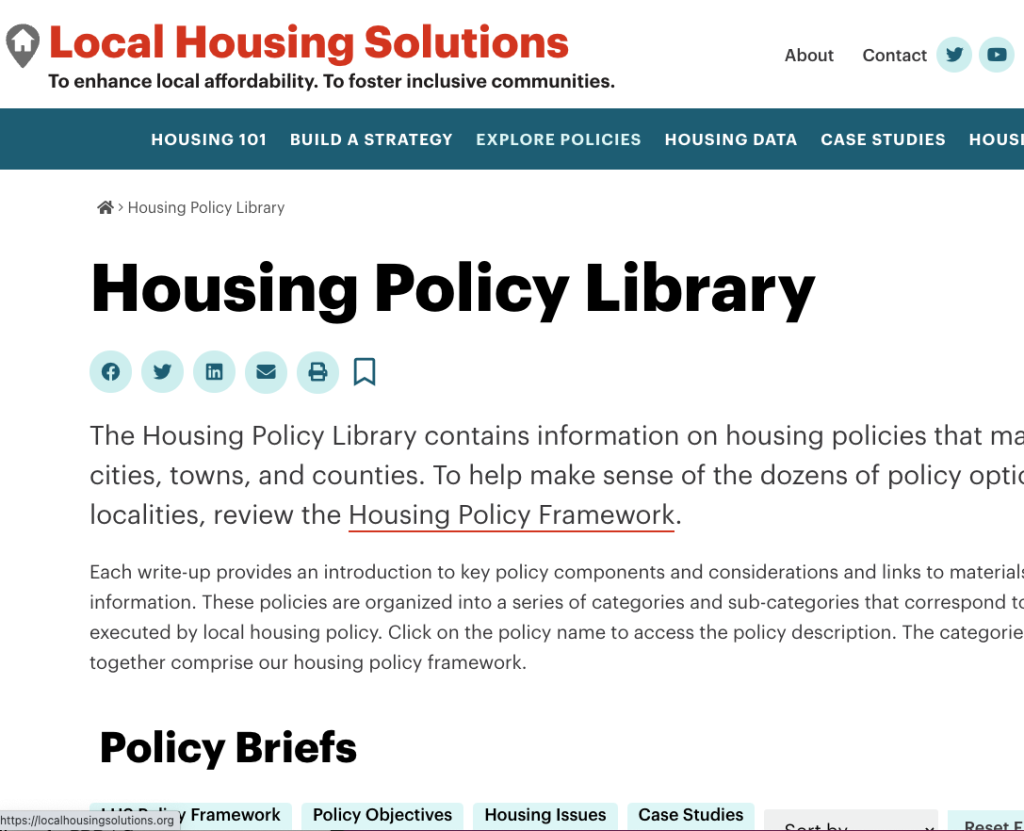 The Local Housing Solutions group has a Housing Policy Library.
It has a range of policy briefs on eviction-related topics, among other housing reforms.
Explore case studies of Eviction Prevention Policy
We have collected examples of eviction prevention laws, rules, moratoria, legislation, and orders.