What is the eviction crisis?
How many people face eviction in the US?
As of mid-2021, an estimated 15 million people in America are at risk of eviction, according to a report from the Aspen Institute.
This risk estimate is based on how behind on rent a household is, and the amount of cost-burden that a household is. If a household spends at least 30% of their income on rent and utilities, they are cost-burdened.
A 2020 study from Harvard (looking at pre-pandemic dynamics) found that 48% of all renter households were cost-burdened. These numbers are higher for people of color. This study found that 55% of black renters and 53% of Latinx renters are cost-burdened.
How many people get eviction orders against them?
What effects does an eviction have on people?
An eviction — the lawsuit, the order, and the set out — can lead to serious collateral consequences for the family that has been displaced. An eviction can harm:
Housing stability + homelessness
Kids' educational outcomes and future careers
Credit Reports + future rental options
Employment and job loss
Physical and mental health
Neighborhood resilience
Overview of the Eviction Process
Most formal evictions go through set phases (though each local jurisdiction has different timelines and legal protections for these):
Tenants and landords make a rental agreement and move in,
Problems emerging, like around nonpayment of rent, lease issues, or the landlord wanting to change the arrangement;
Notice is given, in which a landlord lets the tenant know that an eviciton might be coming — and possibly gives htem a chance to fix issues like money owed or behavior to change
Landlord files a lawsuit in the local civil court to ask for an order to remove the tenant from the home
The court considers whether to give this landlord an order. If they do, then they issue an official document that hte landlord can give to law enforcement.
The landlord has law enforcemnt use the court order to officially set out the person and their property from teh home.
The tenant deals with all the downstream consequences of being evicted, and having court records of the eviction action.
Formal (or official evictions) go through the courts. Not all follow the process above. Sometimes the landlord and tenant can work out a settlement agreement to stop a lawsuit. Other times, a tenant just moves out rather than going through court. (Even if a tenant moves out, they may still have the eviction mark on their record, which can have downstream consequences.)
Informal (or illegal, or unofficial evictions) are done without going to court — and possibly done illegally through pressure by landlords on tenants. In these instances, landlords get tenants to move out without filing a lawsuit against them, and getting an official order. Rather, they use other tactics to pressure a person to leave.
The timeline presents the general legal process of an official eviction (this can differ in jurisdictions, but this is typically the process that eviction lawsuits follow).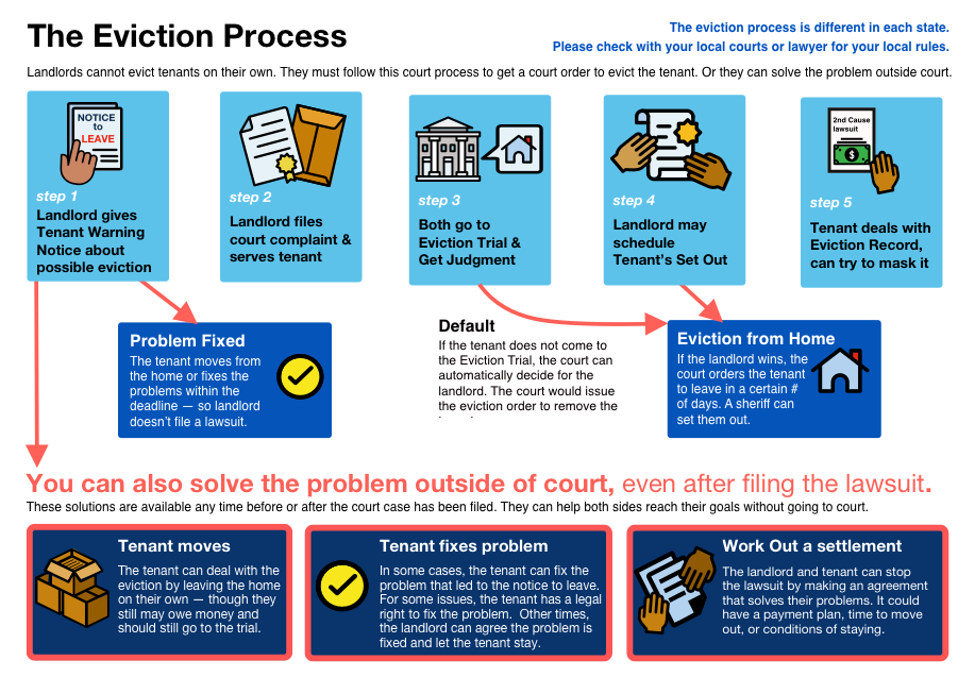 From a broader perspective (beyond just the court), evictions typically grow out of problems around rent or lease clauses. They then go through a warning period, then escalate to the court. At court, judgments and orders formalize the eviction. Then there are the after-effects that happen to the tenant and her family: around health, education, housing, domestic violence, and poverty.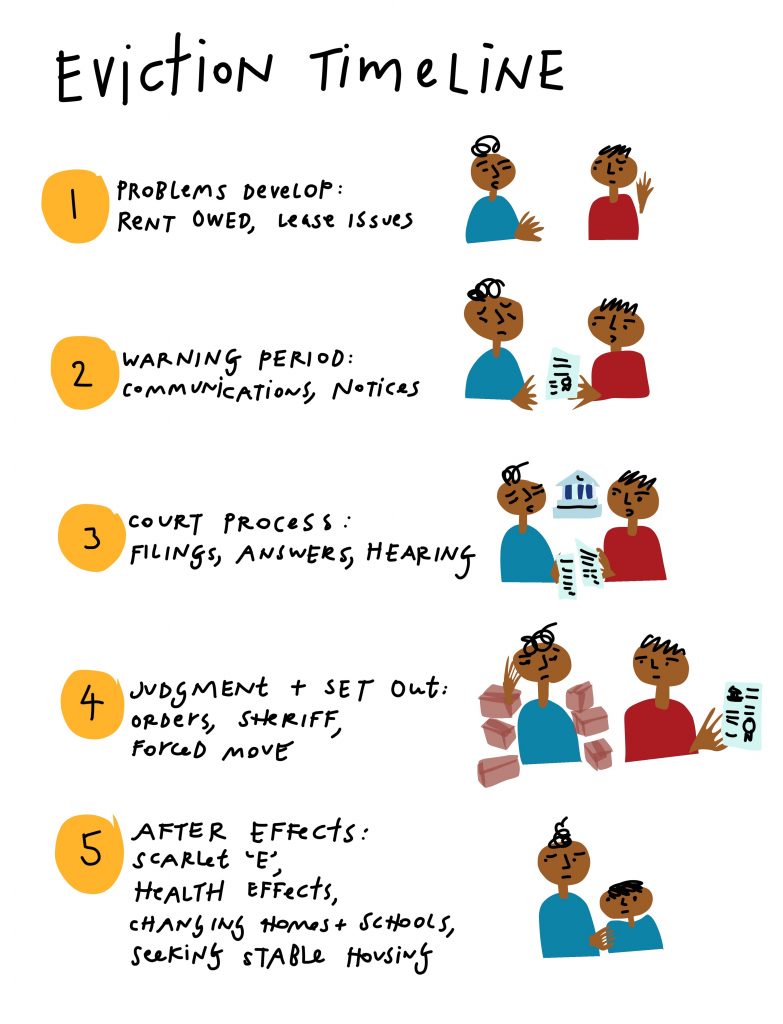 Eviction and Housing Reports and News Articles by State
Explore these links to reports and news articles (organized by state) concerning the American housing crisis, with an emphasis on eviction.
Academic Research on Eviction and the Housing Crisis
Explore this academic research on evictions. These articles from law, policy, sociology, design, and other scholars help explain how evictions work on the ground. They also offer visions of upcoming solutions and innovations for eviction-related issues.
Bezdek, Barbara. "Silence in the Court: Participation and Subordination of Poor Tenants' Voices in Legal Process." 20 Hofstra L. Rev. 533 20 (1992): 533–608.
Bernal, Daniel W, and Margaret D Hagan. "Redesigning Justice Innovation: A Standardized Methodology." Stanford Journal of Civil Rights and Civil Liberties XVI, no. 2 (June 2020): 335–84.
Desmond, Matthew, 2012. "Eviction and the Reproduction of Urban Poverty," American Journal of Sociology, 118(1), pp.88–133. Available at: https://www.journals.uchicago.edu/doi/10.1086/666082
Desmond, Matthew, and Carl Gershenson. "Who Gets Evicted? Assessing Individual, Neighborhood, and Network Factors." Social Science Research 62 (2017): 362–77.
Garboden, Philip ME, and Eva Rosen. "The Threat of Eviction: How Landlords Shape a Contingent Tenure." City & Community, January 2019, 1–38.
Humphries, John Eric, Nicholas Mader, Daniel Tannenbaum, and Winnie van Dijk. "Does Eviction Cause Poverty? Quasi-Experimental Evidence from Cook County, Il." SSRN Electronic Journal, 2019.
Lebowitz, Julie, Auditor-In-Charge Nancy Augustine, and Kathleen Patterson. "Housing Code Enforcement: A Case Study of Dahlgreen Courts." Washington, DC, September 24, 2018. www.dcauditor.org.
Martineau, Kim. "A Model for Predicting Where Landlords May Be Skimping on Heat." Columbia University Data Science Institute, October 8, 2015.
Northridge, Jennifer, Olivia F. Ramirez, Jeanette A. Stingone, and Luz Claudio. "The Role of Housing Type and Housing Quality in Urban Children with Asthma." Journal of Urban Health 87, no. 2 (March 9, 2010): 211–24.
Pastore, Clare. "Gideon Is My Co-Pilot: The Promise of Civil Right to Counsel Pilot Programs." University of the District of Columbia Law Review David A. Clarke School of Law 17, no. 1 (2014): 75–130.
Steinberg, Jessica. "Informal, Inquisitorial, and Accurate: An Empirical Look at a Problem-Solving Housing Court." Law and Social Inquiry 42, no. 4 (2017): 1058–90. https://doi.org/10.2139/ssrn.268900.
Steinberg, Jessica. "Demand Side Reform in the Poor People's Court." Connecticut Law Review 47, no. 3 (2015): 741.
Summers, Nicole. "The Limits of Good Law: A Study of Housing Court Outcomes." University of Chicago Law Review 87, no. 1 (2020): 3.
Collinson, R. and D. Reed. "The Effects of Evictions on Low-Income Households." (2018).
Deena Greenberg, Carl Gershenson, and Matthew Desmond Discrimination in Evictions. (2015).
Chester Hartman and David Robinson. Evictions: The Hidden Housing Problem. (2003).
Karlee M. Naylon, Anna C. deDufour, and Karen A. Lash. Civil Legal Aid Funding in the Time of COVID-19. 2020.
John and Terry Levin Center for Public Service and Public Interest
Stanford Law School. San Francisco Right to Civil Counsel Pilot Program Documentation Report. 2013.
Julieta Cuellar, "Effect Of "Just Cause" Eviction Ordinances On Eviction In Four California Cities," Journal of Public & International Affairs. Princeton University. https://jpia.princeton.edu/news/effect-just-cause-eviction-ordinances-eviction-four-california-cities. 2019
Organizations working on the eviction crisis
The following organizations are intended to support those currently experiencing eviction related hardships, and the majority exist nationally.
"The National Housing Law Project's mission is to advance housing justice for poor people and communities. We achieve this by strengthening and enforcing the rights of tenants, increasing housing opportunities for underserved communities, and preserving and expanding the nation's supply of safe and affordable homes."
National Law Center on Homelessness & Poverty
"The National Law Center on Homelessness & Poverty is a 501(c)3 nonprofit organization based in Washington, D.C., and is the only national legal group dedicated to ending and preventing homelessness. We operate programs across the United States that serve America's more than 3.5 million homeless families, children and individuals."
"The National Housing Trust is the nation's leading expert in preserving, improving and maintaining affordable housing – ensuring that privately owned rental housing remains in our affordable housing stock and is sustainable over time. Using the tools of real estate development, rehabilitation, finance, policy advocacy in conjunction with sustainable practices, the Trust is responsible for saving more than 36,000 affordable homes in all 50 states, leveraging more than $1.2 billion in financing.
National Low Income Housing Coalition
"Founded in 1974 by Cushing N. Dolbeare, NLIHC educates, organizes and advocates to ensure decent, affordable housing for everyone. Our goals are to preserve existing federally assisted homes and housing resources, expand the supply of low income housing, and establish housing stability as the primary purpose of federal low income housing policy."
"NHC is all about connection. Our unique vantage point in the housing community means we can connect research to practice, advocate across the continuum of housing and deliver the research, resources and experts you need to do your work to move housing forward. Whatever your interest in housing, you can come to NHC for information to fuel your work and to collaborate for positive policy change at every level."
"Just Shelter was founded by Matthew Desmond and Tessa Lowinske Desmond to raise awareness of the human cost of the lack of affordable housing in America and to amplify the work of community organizations working to preserve affordable housing, prevent eviction, and reduce family homelessness."
National Alliance to End Homelessness
"The National Alliance to End Homelessness is a nonpartisan, nonprofit organization whose sole purpose is to end homelessness in the United States. We use research and data to find solutions to homelessness; we work with federal and local partners to create a solid base of policy and resources that support those solutions; and then we help communities implement them."
National Coalition for a Civil Right to Counsel
"The National Coalition for a Civil Right to Counsel (NCCRC), organized and funded in part by the Public Justice Center, is an association of individuals and organizations committed to ensuring meaningful access to the courts for all. Founded in 2003, our mission is to encourage, support, and coordinate advocacy to expand recognition and implementation of a right to counsel for low-income people in civil cases that involve basic human needs such as shelter, safety, sustenance, health, and child custody."
"The RVA Eviction Lab, housed at VCU within in the Wilder School of Government and Public Affairs, focuses on meeting eviction data and research needs and supporting the work of local government, community-based organizations, elected officials, and other advocates. The RVA Eviction Lab takes the necessary deeper dives into the qualitative and quantitative aspects of evictions. Because this problem and the associated research questions will continue to shift both regionally and locally, we make data public, reliable, and responsive to the needs of the community, region, and the state."
"Rent Ready Norfolk (RRN) is a comprehensive, voluntary program designed to increase the number of viable residential rental properties in the City of Norfolk and assist renters and landlords."