Basic Information
District Rent Courts in Maryland have mediation available when landlords and tenants come to trial for their court case. It allows people going through eviction (or dealing with other landlord-tenant housing problems) to have a neutral third-party involved in possibly settling their case — rather than continuing with the court trial.
The program offers a free mediator during high-volume times, on early mornings in Rent Court.
Program Details
All parties would get a bright orange 'interest sheet' about the program.
The mediator makes an announcement before the judge takes the bench.
Either plaintiff or defendant can express interest by coming to the mediator. (The pilot found that by far, it was the tenant alone that was requesting the mediation.)
When the case is called, then the judge acknowledges that a mediation request has been submitted — and asks the other party if they will take part in the mediation.
If both parties agree to the mediation, then they can go to the separate space for their session. If an attorney or landlord agent was representing one of the parties, then the judge and court clerks would re-arrange any other scheduled trials for that attorney/agent until they were done with the mediation.
Once a mediator is requested, then the courtroom clerk gives the mediator the full paper case file.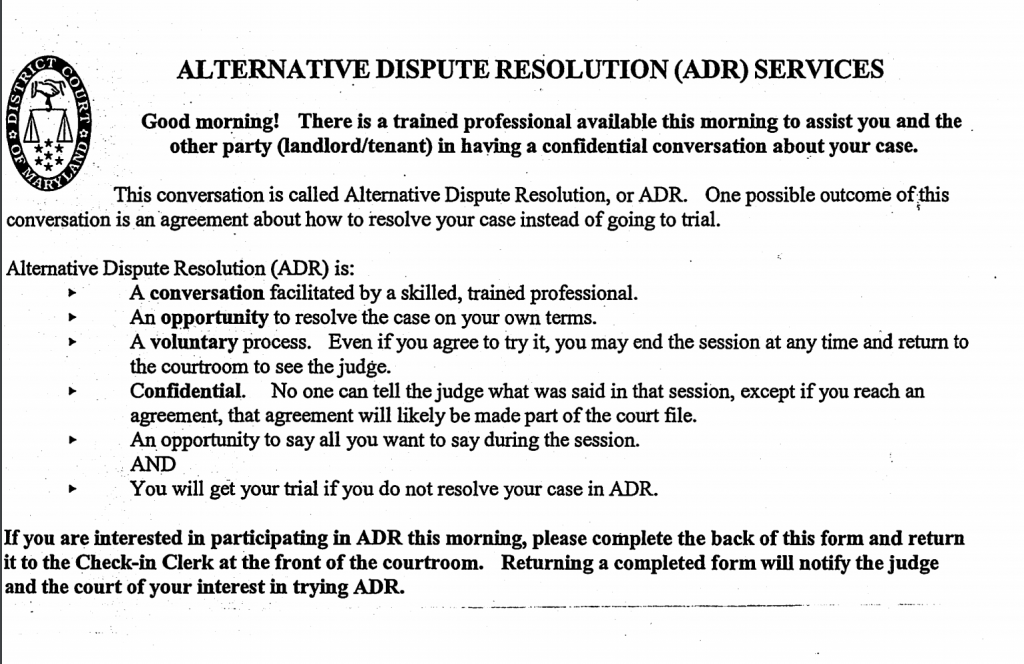 Evidence Base
The Baltimore City District Court had piloted a Rent Court Mediation program for five months in 2016, and the pilot gathered data on the results of the intervention. (The full 60 page report from 2017, authored by the Center for Dispute Resolution at the University of Maryland law school, on the Mediation pilot and its outcomes can be seen here.)
The court found it was a successful pilot based a few main factors:
The settlement rate of those landlord-tenant parties who took part in the pilot. Parties who participated in the mediation pilot had an 81% settlement rate. Of all mediation programs in all civil case types in the court, non-payment of rent mediations had the second highest settlement rate — demonstrating the potential of mediation-based settlements to avoid negative outcomes in court.
The procedural justice outcomes of the parties, including the sense that they were heard, that they were able to discuss pressing issues, and that they felt respected and satisfied
The sense of satisfaction with the courts, that showed people who went through the mediation pilot were more likely to have trust and satisfaction with the judicial system
The outcomes for both parties, that can keep eviction marks off of tenants' records, that can get compensation to the landlords, and that can make an acceptable plan for payment, housing conditions, or other needed changes for both parties