Basic Information
Housing Court Lawyer for the Day
Volunteer attorneys provide Limited Assistance Representation to low-income, underrepresented tenants and landlords.
Began in May 1999 and is still occurring
Built into the Volunteer Lawyers Project's annual budget, funded by Legal Services Corporation
Size (number of beneficiaries)
Estimated total: 15,000 people represented through volunteer lawyers in the Boston Housing Court program, as of March 2020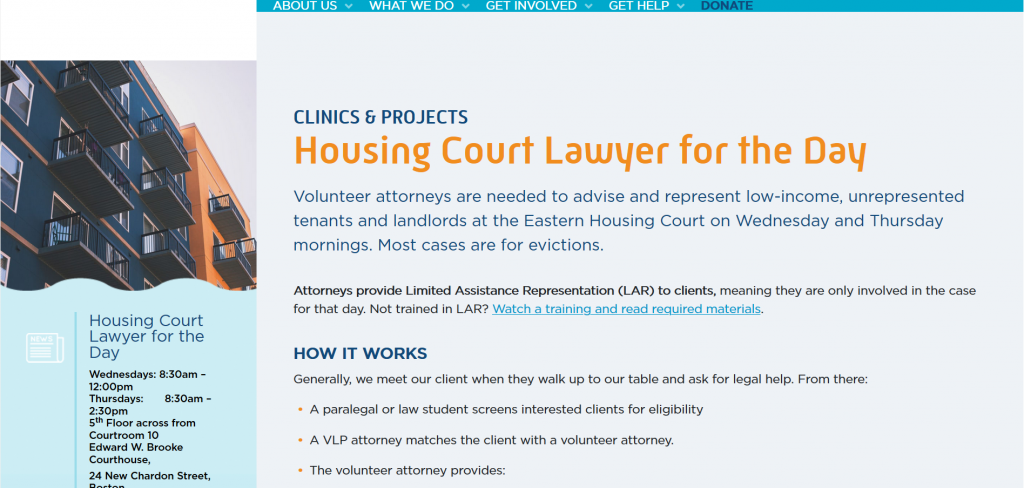 ---
Stakeholders
Who designed and set up the program?
Who runs and manages the program?
VLP manages the program through 3 Housing Staff Attorneys, 1 Supervising Attorney, and 1 Paralegal. We utilize pro bono attorneys and law students to represent the clients.
Intended Beneficiaries: Who does the program target?
Low-income, unrepresented tenants and landlords
---
Program Details
How does the program work? What are the typical paths of action that the beneficiary + the service-provider take?
Volunteers are present in the courthouse on the day of eviction hearings. A table is set up outside of the courtroom inviting pro se litigants to visit the volunteers. Paralegal and interns complete intakes to ensure clients qualify for the services. If they do, they will be assigned a volunteer attorney or 3:03 certified law student. The volunteer represents their client by drafting motions, mediating with the other party, or representing the client in their hearing. The program is Limited Assistance so volunteers file a Notice of Appearance and a Notice of Withdrawal on the same day.
What assets can be shared for others to use?
---
Evidence Base
What are the plans for monitoring and evaluation?
There are currently no evaluations.
Have any evaluations been conducted so far?
Nor available at this time.
---
Contact and Follow-Up Info
Point of Contact for more information
Amy Anthony, Supervising Staff Attorney, at aanthony [@] vlpnet.org