The Eviction Legal Helpline is based in Virginia, beginning in January 2019. It is a phone line and email line aimed at tenants facing eviction or lease termination. It provides legal information, brief legal advice, and referrals to other services.
It is staffed by legal aid attorneys along with dozens of volunteers including law students, undergraduate students, licensed attorneys, and others. The project has a collection of training and resources to help these volunteers provide services.
The Helpline is a project of the Virginia Poverty Law Center and the Campaign to Reduce Evictions.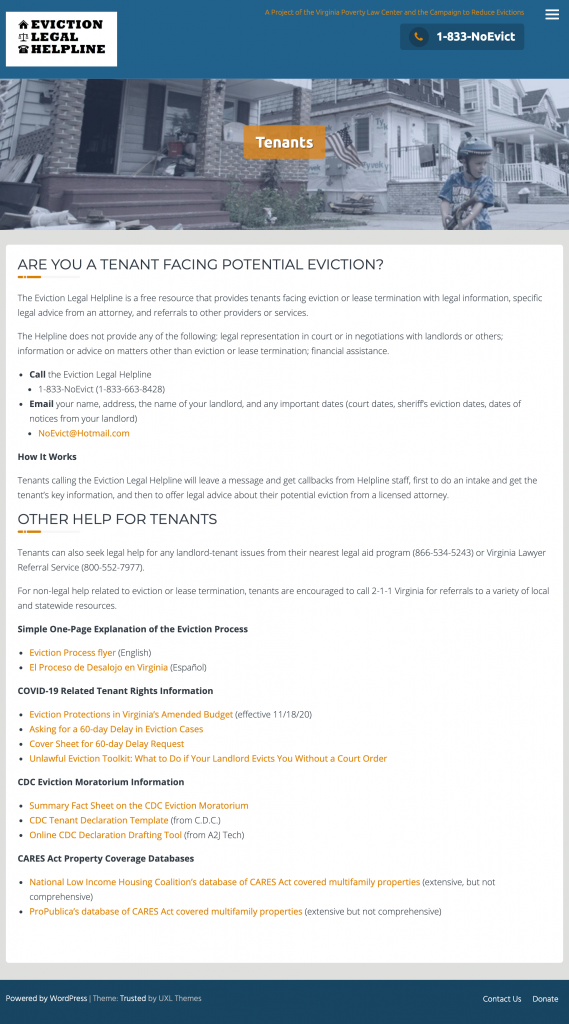 Funding: The Helpline was initially funded by a cy pres award (when class action lawsuit funds go undistributed to the class's members, and then are distributed to a public interest group). It was then supplemented with grants.
Outcomes: As of mid-2020, 500+ tenants have received legal information or advice from an attorney about their potential eviction or lease termination.
They compile reports regularly on the volume and results of calls to the Eviction Legal Helpline, including cases referred to local legal aid programs for representation or further services.
Partnerships: The program began by reaching out to appropriate social service agencies in Virginia's areas hardest hit by evictions, but has increasingly been promoting its services and extending its reach statewide.
For more information: Contact Phil Storey, a legal aid attorney with a decade of experience, who runs the program. phil [at] vplc.org