The National League of Cities & the Stanford Legal Design Lab are leading a new Landlord Engagement Lab. It includes a cohort of city governments who are working to engage "mom and pop" landlords with eviction prevention.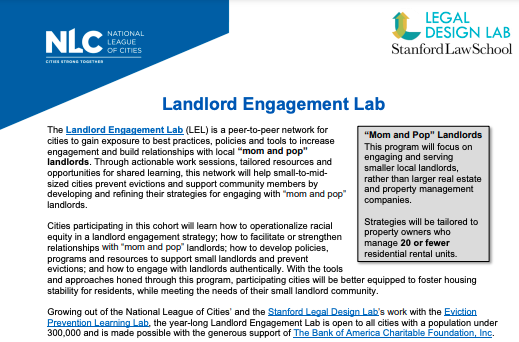 The cohort of practitioners will be focused on ways to engage and support smaller, local landlords and property owners who manage 20 or fewer residential units.  How can they be aware of eviction prevention resources, and engage with these services & dispute resolution processes?
Cities participating in this cohort will learn how to:
Operationalize racial equity in a landlord engagement strategy
Facilitate or strengthen relationships with mom-and-pop landlords
Develop policies, programs and resources to support small landlords and prevent evictions 
The cohort involves ongoing meetings, technical assistance, and spreading of best practices.