If you're looking to improve outreach about eviction prevention, emergency rental assistance, or other resources, please use our Social Media for Eviction Prevention Toolkit.  
This is a project of Stanford Legal Design Lab, produced originally for the Eviction Prevention Learning Lab.
The toolkit has clear guidance, links to free images & templates you can use, and specifications your team can follow to get more posts, videos, and engagement on key platforms where your audience is.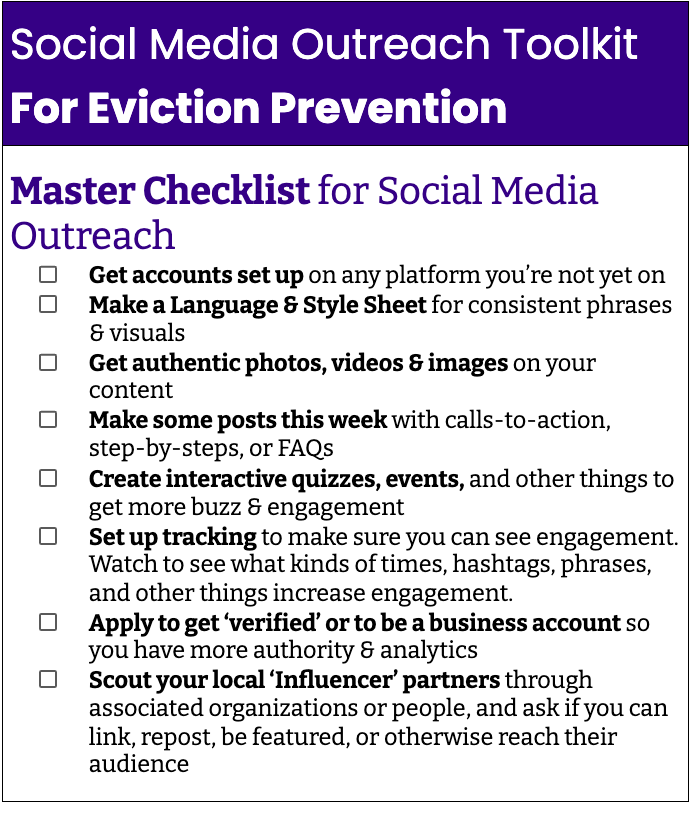 The eviction prevention social media toolkit includes the following resources:
Account/Platform list
Visuals & Language Content Prep

Post templates
How to use Canva
How to edit the eviction help post templates
Free eviction help post templates
Language & Style Sheet
Images and Illustrations to use

Content & Engagement Prep

Stories or grid posts? When to use what?!
Stories, highlights, fleeting posts
Permanent grid posts
Calls-to-Action content
FAQ content
Step-by-Step walkthrough
Interactive quizzes and events
Answering People's Real Questions

Amplify Your Content's Reach

Use a social media management platform

Track Engagement & Demographic Analytics
The Toolkit can help your team get set up on the right platforms, create content that's in the right language & with engaging visuals, and make sure that it's reaching the people it's intended for.
The toolkit also includes links to free-to-use repositories of social media templates, images, and illustrations for people working on non-profit, public interest legal help online. Visit the Toolkit to find the links, templates, and resources.
For example, here are Canva templates you can use for free to get started on eviction help outreach. The Toolkit will talk you through how to use them.
Poster/Flier template on Canva: https://www.canva.com/design/DAEqRafNG-A/ZiEVQDo-oALjQHYf_pEUFw/view?utm_content=DAEqRafNG-A&utm_campaign=designshare&utm_medium=link2&utm_source=homepage_design_menu
Facebook templates for post series on Canva:  https://www.canva.com/design/DAEqSQrGnvA/ywaGxyGYlMjc-bd_S7yxSw/view?utm_content=DAEqSQrGnvA&utm_campaign=designshare&utm_medium=link2&utm_source=homepage_design_menu 
Instagram templates for post series on Canva: https://www.canva.com/design/DAEqSU1xz-8/aqGY83G9_LVxvTlAJEaHYA/view?utm_content=DAEqSU1xz-8&utm_campaign=designshare&utm_medium=link2&utm_source=homepage_design_menu